Top Faculty on Campus Found at Bauer College
Published on May 4, 2010
UH Bauer Professors, Doctoral Student Honored for Research and Teaching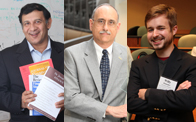 Two professors and one doctoral student from the University of Houston C. T. Bauer College of Business were honored in April among the best on campus at the annual UH Faculty Awards Ceremony.
Department of Finance chair and Texas Bank of Commerce/Tenneco Professor Praveen Kumar, Associate Professor of Management Richard DeFrank, and marketing Ph.D. candidate Willy Bolander were three of the 22 UH faculty recognized.
Kumar, who joined the UH Bauer faculty in 1996, was honored with the UH Award for Excellence in Research and Scholarship. He has published 30 articles in high quality refereed journals in finance, economics and management, including engineering and operations management.
"To benchmark this productivity, a 1998 article in the Journal of Finance documents that full professors in the top 20 finance departments (by research productivity) have an average of less than nine papers in top finance and economics journals in their careers," said Professor Thomas George.
"Praveen has placed seven articles in the top finance, economics and management journals in 2008-2009 alone," he added.
DeFrank, who began his career with the Department of Management in 1989 as a visiting professor, was recognized with the UH Teaching Excellence Award. The quality of DeFrank's teaching shines through in the high student evaluations he regularly receives and frequent comments from students that he is the best professor they've ever had, said department chair Leanne Atwater.
"He is hands-down the single most talented educator I have ever seen," an undergraduate student wrote in a nomination letter. "He cares about his students and provides them every opportunity to do well in his classes. After certain lectures, I (along with a great many others) almost felt inclined to stand up and start clapping."
Bolander, who teaches advanced professional selling in the Program for Excellence in Selling and the introductory professional selling course, received the UH Teaching Excellence Award for graduate teaching assistants. Bolander consistently ranks among the top instructors in the college and has been recognized for his teaching through several departmental commendations and the PES Teaching Excellence Award in 2009.
He is the third student from the UH Bauer marketing department to receive this campus-wide award in recent years; Keith Richards received the award in 2006 and Doug Hughes received it in 2007.
"We are really pleased to see Willy get this award," said department chair Ed Blair. "He is a natural teacher who will win awards wherever he goes. He has a knack for making his students feel comfortable and confident while demanding high performance from them."
By Jessica Navarro