UH Bauer Recognizes Outstanding Graduates
Published on May 12, 2010
Spring 2010 Commencement Celebrates a Culmination of Success for Bauer Grads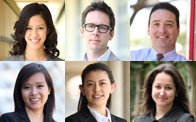 The University of Houston C. T. Bauer College of Business recognized its Spring 2010 graduates at a commencement ceremony on May 14 in Hofheinz Pavilion on the University of Houston campus.
Continuing an age-old UH tradition that was reinstated last year, all UH colleges participated in university-wide commencement with an address from President Renu Khator and Provost John Antel. Both undergraduate and graduate business programs were honored at a ceremony reserved for Bauer College where Dean Arthur Warga presented graduates to the president for conferral of their degrees.
Bauer College salutes the undergraduate and graduate students who have demonstrated integrity and perseverance in the pursuit of their degrees and will continue to make the college proud as leaders in their communities.
Students from each program were selected as outstanding graduates for their extraordinary achievements and leadership while at Bauer College:
Outstanding Undergraduate Student
Finance and accounting senior Kim Pham is the Spring 2010 Outstanding Undergraduate Student. She graduates with a 4.0 grade point average and several honors, including the Ted Bauer Leadership Award and awards for leadership and academic excellence from the college's Accountancy Advisory Board.
Pham balanced academic excellence with student leadership during her time at UH Bauer, earning a place on the Dean's List for seven consecutive semesters and receiving the Finance Association's Most Outstanding Officer, Top 10 Active Members and Most Outstanding Member awards as well as the C. T. Bauer Star of Excellence for helping to organize the 2008 NYMEX Commodities Trading Challenge.
Pham has worked as a corporate banking and syndicated leverage finance analyst for J.P. Morgan since January and will begin a full-time position with the company after graduating. As a student, she also interned with ConocoPhillips, Deloitte & Touche and Direct Energy. In addition to her role as an officer of the Finance Association, she helped to form the Cougar Investment Research Group, the first investment research and consulting group on campus, and served as vice president of the Golden Key International Honor Society.
Community involvement has also been important to Pham during her college career. She served as a college team leader for the Game of Real Life, a program that gives Houston-area teenagers the opportunity to prepare for life after high school.
Outstanding EMBA Student (Program I)
Cord Bowen is the Outstanding Executive MBA Student (Program I) for Spring 2010. A native Houstonian, Bowen is an adjunct assistant professor for the Gerald D. Hines College of Architecture and Industrial Design at the University of Houston. He teaches both architecture and industrial design studio courses throughout the program.
Professionally, Bowen is partner and co-founder of Local Design Office, a design firm specializing in architecture, graphic and industrial Design. Before pursuing his EMBA, he completed a bachelor of architecture from UH and a master of architecture from Parsons School of Design in New York. Throughout the past 15 years, he has been recognized by the American Institute of Architects and many other organizations for his design work.
Outstanding EMBA Student (Program II)
Jaime Viancos is the Outstanding Executive MBA Student (Program II) for Spring 2010. His professional career spans 25 years of leadership and technical roles. Recently, he celebrated his 20th anniversary with BP and was promoted to commercial manager of BP's U.S. Cogeneration Power business after completing class work for his MBA. Previously, he held the roles of business development manager for the BP Texas City Refinery and power plant optimization manager for BP North America Gas and Power
Viancos holds bachelor of science degrees in mechanical engineering and engineering technology from UH. He lives in the Houston/Galveston area with his wife of 25 years, Tammi, and their daughter Gabi.
Viancos was voted Outstanding Executive MBA Student by his classmates. "Achievement in the EMBA program is attained by personal growth, acquiring knowledge and skills, and by nurturing networks, teamwork, and relationships; none of which are achievable on your own," he said. "The foundation of this program is composed of family and friends, staff, faculty, classmates, and teammates, all of which have been of the highest caliber and for which I am very grateful."
Outstanding MBA Student
Thu Pham is the Outstanding MBA Student for Spring 2010. She is graduating from UH Bauer's MBA program with a focus in finance and has also earned two professional certificates in Energy Finance and Energy Investment Analysis. Pham came to the United States at the age of 16 as a high school exchange student. After graduating cum laude with a bachelor of science in biology from the University of New Mexico, she moved to Houston with the dream of serving as a leader in the health care industry. Pham has dedicated her last two years in the MBA program not only to achieving high academic success but also in making an impact on student organizations by being an active student leader.
She served as the President of the National Association of Women MBAs (NAWMBA) – UH Chapter from 2009 to 2010 and was also active with other student organizations, including the Bauer MBA Society and the MBA Student Advisory Board. She was also featured in The Wall Street Journal, Houston Business Journal and other publications for the program's marketing campaign.
Under her leadership, the NAWMBA – UH chapter has grown and established its place not only at UH Bauer but also in the Houston community. Pham led her team in advancing the NAWMBA Mentorship Program with the guidance and support of Alumni Director John O'Dell and Bauer staff. Pham was one of the first five founding members of the NAWMBA Shideezhi Project, a mentoring program for at-risk high school girls on the Navajo Reservation in Arizona. She continues to actively support the project and is a mentor for a junior high school student at Valley High School in Sanders, Arizona.
Pham was also a key-planner and co-founder of the Bauer MBA Global Experience, a collaborative effort with the Bauer MBA Society and NAWMBA that has become an annual celebration of Bauer's diversity with more than 150 MBA students, staff and alumni representing over 20 countries. Pham would like to thank her family, especially her mother, Mrs. Cong Tang Ton Nu thi Viet, and the Bauer staff and friends for their continued support of her past, present and future achievements.
Outstanding MS Finance Student
Yang Huang is the Outstanding Master of Science in Finance Student for Spring 2010. She earned her bachelor of arts in finance from Renmin University in China in 2004. Upon graduation, she was awarded a graduate scholarship to pursue further education from the Hong Kong University of Science and Technology (HKUST).
After receiving her master of philosophy in social science from HKUST in 2006, Huang moved to the United States with her family. As a student at UH Bauer, she has been actively involved in research activities, presenting at the Decision Sciences Institute Annual Conference and co-authoring a paper on financial service under revision with Journal of Service Management. She also received the Suresh Agrawal Scholarship from Bauer in 2010.
Outstanding MS ACCY Student
Marina Ruseva is the Outstanding Master of Science in Accountancy Student for Spring 2010. Born and raised in Bulgaria, Ruseva transferred to UH Bauer from the Technical University of Sofia, where she studied Computer Science, in 2005. Ruseva earned her BBA and then MS Accountancy degrees from UH Bauer, graduating Summa Cum Laude.
She is the recipient of scholarships from both the Texas Society of CPAs and the Tax Executives Institute, as well as other awards and recognitions. In addition to her many activities at UH Bauer ― an active student in the Professional Program in Accountancy, a member of the Accounting Society and a participant in the UH Deloitte Tax Case Competition Team ― she interned with both AIG and Deloitte, and has served as a teaching assistant for Bauer's financial and managerial accounting sections, most recently heading up the Accounting Tutoring Lab. Ruseva has passed two sections of the CPA exam and plans to complete the CPA exam requirements this year.
By Lori Reichardt & Jessica Navarro